FOR INTRODUCTION AND TUTORIAL DETAILS
Barometer of Pakistan

Introduction
The barometer of Pakistan is a data tool for students, teachers, researchers and policy makers. This tool provides comprehensive information on population, land, location type, household income, economic census, age distribution, literacy and education attainment, electoral system and facts and political class. These are variable indicators which are visible on the top bar in the barometer. Each variable can be further refined for search by applying any of the five filters given on the right side. These filters include province, rural/urban, 12 regional markets, 20 zones and divisions.
Provinces
The drop down menu for provinces displays all, Punjab, Sindh, KP, Balochistan and ICT.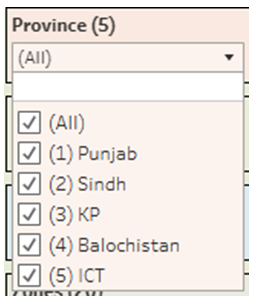 Rural/Urban
The filter for rural and urban presents these two options in the drop down menu.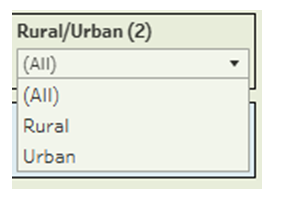 Regional Markers
The regional markers include Punjab North, Punjab Central, Punjab West, Punjab South, Karachi Region, Interior Sindh, KPK North, KPK South, Peshawar Valley, Hazara, Quetta Region and Kalat and Makran Region.
Zones
The filters on zones include 20 main zones.  These include Zone-1 (North) Rawalpindi, Zone-2 (West-1) Sardgodha,  Zone-3 (West-2) Faisalabad, Zone-4 (Central-1) Gujranwala, Zone-5 (Central-2) Lahore, Zone-6 (South-2) Multan, Zone-7 (South-2) Dera Ghazi Khan, Zone-8 (South-3) Bahawalpur, Zone-1 (West) Karachi, Zone-2 (East) Mirpur Khas, Zone-3 (South) Hyderabad, Zone-4 (North-1) Sukkur, Zone-5 (North-2) Larkana, Zone-1 (North) Malakand, Zone-2 (South) Bannu, DIKhan, Kohat, Zone-3 (Peshawar Valley) Peshawar and Mardan, Zone-4 (Hazara), Zone-1 (Quetta) Quetta, Zhob, Zone-2 Kalat, Nasirabad, Sibi, Zone-3 Makran.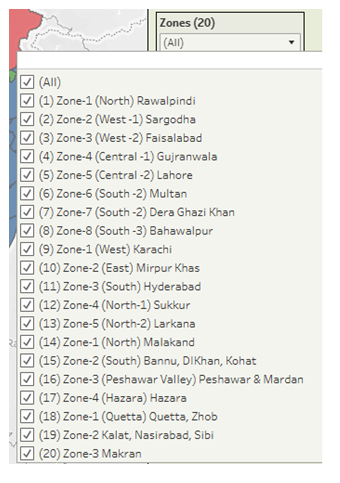 Divisions
The filter for divisions includes Bahawalpur, Bannu, Dera Ghazi Khan, Dera Ismail Khan, Faisalabad, Gujranwala, Hazara, Hyderabad, Islamabad, Kalat, Karachi, Kohat, Lahore, Larkana, Makran, Malakand, Mardan, Mirpur Khas, Multan, Nasirabad, Peshawar, Quetta, Sahiwal, Rawalpindi, Sargodha, Shaheed Benazirabad, Sibi, Sukkur, Zhob,

Summary
The barometer provides a list of summaries related to selected location. This includes total population, annual population change, land area  (sq km), population density, total housing units, average  household size, total annual income (GNI), average monthly household income, number of divisions, number of districts, number of tehsils, number of unions councils, number of constituencies.